---
NEW YEAR, NEW YOU?
Is your new year's resolution to try and lose some weight? Do you think your pet may need to join you?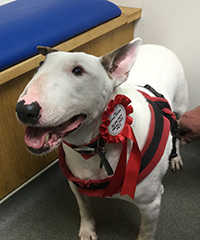 One of the most important factors in keeping your pet healthy is a good quality diet. Good nutrition can help or prevent many health problems such as diarrhea or flatulence, bad breath and dental problems, heart disease, diabetes and mobility problems and many other issues.
Obesity is at crisis levels in the pet population just like with people. At Brookend Vets we are taking on this problem head on.
We have launched a dedicated Weight management service, FREE TO ALL OF OUR CLIENTS.
We are an appointed and Approved weight management centre by ROYAL CANIN® and are one of only two 'Centre of excellence' in Essex.
With our help and encouragement, working with owners we are achieving amazing results. Casey (pictured left) was awarded one of our SLIM PET, HEALTHY PET award. Cassey managed to decrease is body weight by one third!! from 32.3kg to 22.3kg.
All of our nurses are trained nutritionists and can give advice on any aspect of your pets diet. Contact the practice for further information.
---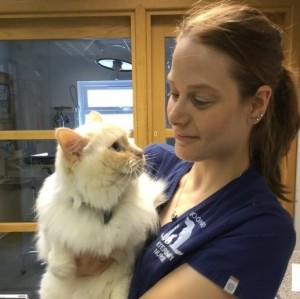 Brookend has been caring for the pets of Witham and the surrounding area since 1990 with over two and a half thousand local pets currently looked after by the practice. We pride ourselves on being a friendly, local, independent practice with many long standing staff, several have been here since the very beginning. We feel it is very important you can see the same people and build a real relationship with them.
Our main concern is the health and well being of your pets. We aim to provide the highest standard of care for your pet and excellent value for money. Our highly trained, friendly and helpful staff can provide advice on any subject relating to your pet.
Please call in or telephone reception on 01376 500038 if you require any advice. If you are not yet a client at Brookend you can also register your pets online here.