Introducing Our Practice Team
The Vets
All of our vets aim to provide the highest standards of treatment for your pet. We work closely as a team to ensure real continuity of care.
---
Mr Michael Probert B Vet Med, MRCVS
Veterinary Surgeon and Director
Mike qualified from the Royal Veterinary College in 1997 and has been at Brookend ever since. In 2009 he became a partner with Alison and took over full control of the practice following Alison's retirement in 2014. He enjoys all aspects of general practice and is especially interested in orthopaedic surgery. He enjoys spending his time off with his young family. Mike has played rugby for Witham, and loves travelling to watch the Welsh rugby team in action.
---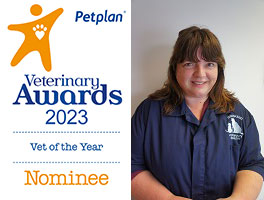 Mrs Rebecca Ramsey BVM&S. BSc. MRCVS
Veterinary Surgeon
Rebecca qualified from Edinburgh University in 1997, she has been part of the team at Brookend since 2002. Rebecca has a keen interest in exotic pets and general medicine. She loves spending time with her two boys and going for long walks with her dogs.
---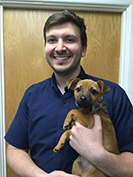 Mr Connor Herst DrMedVet PgCertImg(WBIS) MRCVS
Veterinary Surgeon
Connor graduated from the University of Veterinary Medicine Budapest in 2018 and joined the Brookend team one year later. Connor has a particular interest in diagnostic imaging, recently completing his certificate in Small Animal Diagnostic Imaging (WBIS ) but also enjoys surgical work. Outside of practice, Connor enjoys music, gaming and walking with his dogs.
---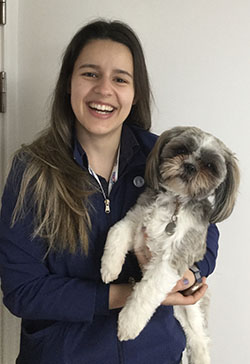 Diana Cavaleiro MIMV MRCVS
Veterinary Surgeon
Diana qualified from the University of Porto in 2018 and joined Brookend in 2021. She is very passionate about her job, having a particular interest in cardiology and feline medicine.
In Diana's free time, she enjoys the company of her pets, Apolo, a tabby cat, and Snickers, a little Shih Tzu, travelling and reading.
---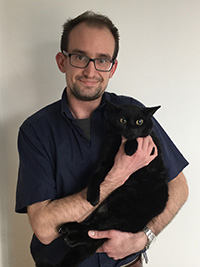 Aleksander Nowak MRCVS
Veterinary Surgeon
Alex graduated in 2018 from Warsaw University of Life Sciences. He spent 3 years working in a small animal practice in South Yorkshire before moving to Witham and joining the team at Brookend.
In his free time Alex enjoys gardening and long-distance hiking, recently completing the 500km long distance trail in the Beskids Mountains in Poland.
---
The Nurses
At Brookend our team of qualified veterinary nurses will look after your pet from the moment they arrive until they return home.
The nurses provide regular clinics for:
microchipping
nail clipping
worming and flea control
emptying anal glands
diet advice
dog and cat behaviour/training advice
medication administration
---
Katie Blackery RVN
Head Veterinary Nurse
Katie is our head nurse. She qualified in 2004, training at Brookend and Writtle College, having joined us as a school leaver. She enjoys leading the Brookend nursing team. Katie has extensive knowledge of dog behavioural problems and runs regular nursing clincs.
---
Hollie Williams RVN CA-SQP CertVNECC
Deputy Head Nurse
Hollie qualified as a Registered Veterinary Nurse in 2020 after completing her training with Writtle College University. She has a passion for nursing hospitalised patients and critical care needs and has recently completed her Certificate Of Veterinary Nursing In Emergency & Critical Care. Hollie was recently promoted to Deputy Head Nurse.
Hollie previously specialised in Avian Nursing ( particularly Racing Pigeons) and Microscopy. She takes a special interest in animal conservation after nursing on an African Reserve.
In her spare time, she enjoys socialising with friends and family, beach and countryside walks.
---
Sharon Logan RVN
Veterinary Nurse
Sharon is a qualified veterinary nurse and has worked at Brookend since 1992. She has the specific jobs of dealing with the many insurance claims we process, and stock control, but whenever possible she still enjoys some patient contact, and watching interesting operations. Sharon's hobbies are dog walking and cross stitch.
---
Kim Tomkin NVQ Small Animal Care
Veterinary Nursing Assistant
Kim has been at Brookend since leaving school in 1995. She enjoys the day to day interaction with the animals and has a particular interest in hand-rearing newborns. Kim's hobbies include reading, and spending time with her friends and families, she has recently rediscovered her love of horse riding along with her daughter.
---
Sarah Cornell RVN
Veterinary Nurse
Sarah joined the team at Brookend in 2012 but has been nursing for many years. She trained at the RSPCA in London and qualified in 2006. She has a keen interest in nursing rabbits. Anaesthesia and inpatient care. In her spare time, she enjoys socialising with friends and family and cake decorating.
---
Helen Frost RVN
Veterinary Nurse
Helen qualified as a veterinary nurse with honors in 2012. She joined Brookend last year heads our cat care clinics including our new cat only clinics and feline blood pressure monitoring. Helen lives with her boyfriend and two guinea pigs, away from work she enjoys spending time with her family and friends and reading.
---
Nicola Wright RVN
Veterinary Nurse
Nicola qualified at the College of Animal Welfare in 2013. At work she is especially interested in radiography, all feline medicine including our cat only clinics. Nicola runs our social media platforms and really enjoys taking pictures and videos to educate our clients, and of course, loves the cute puppies and kittens. Nicola has three cats of her own, Arthur, Ernie and Bertie and believes that she would be classed as a crazy cat lady if she didn't have a husband and young daughter! In her spare time, she enjoys photography, time with her family and friends, and camping.
---
Rebecca O'Keeffe RVN
Veterinary Nurse
Becca qualified in 2018 after completing her training with Writtle College University. She takes a special interest in feline medicine, hypertension and diabetes. She has 3 cats of her own, all rescued since starting as a student nurse. Outside of work she enjoys spending time socialising with her family and friends.
---
Coral Blew SVN
Student Veterinary Nurse
Coral joined us as a receptionist in 2021 but is now training to become a veterinary nurse, studying at Writtle college. She qualified as a Registered Animal Medicines Advisor in 2017 and has a keen interest in parasites in small animals! Coral won the Petplan Rising star of the year award in 2016.
Coral has a Jack Russell named Ben that she adopted from Wallace Kennels in 2016 and enjoy' s trick training and agility! Coral enjoys horse riding and owns two ponies called Bella and Buster, enjoying competing with Buster in Cross Country and Jump cross, and pampering Bella who is now retired.
---
Morgen McDonald SVN
Student Veterinary Nurse
Morgen has been in the veterinary industry for 2 years; she completed her Animal Management Level 3 in 2021. In her spare time, she helps at a local Brownie unit, plays the cornet in a brass band, as well as looking after her three rabbits (Luna, Myst and Chino) hamster called Stitch, Bruce the Fish and Kasper the dog!
---
Helen Turner
Practice Manager
Helen joined our reception team in 2014 and was promoted to Practice Manager in 2017. She has completed her Veterinary Practice Management Certificate and along with Head Nurse Katie, recently completed her training as a MHFA (Mental Health First Aider) Helen loves to spend time with her family and enjoys music, singing, theatre trips, cycling, yoga and a good box set!
---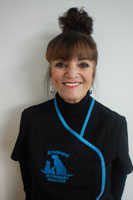 Mary Jones
Office Administrator
Mary is the longest serving member of staff, having joined the practice in 1988, before it became Brookend. She enjoys talking to the clients and has completed four customer care courses. She is also a qualified nutritional advisor. After many years on reception, Mary now works in the office with Helen.
In her spare time, Mary enjoys spending time with her family and enjoys dancing, music, theatre, and holidays.
---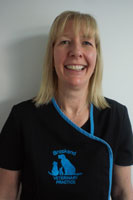 Karen Jones
Receptionist
Karen has been with the team since 2004 when she joined an office administrator in 2011 she was promoted to practice manager. She has completed her Veterinary Practice Administration Certificate. Karen recently decided she wanted to spend more time with clients and staff so has moved to reception. Karen owns Tigger the cat after adopting him when he was abandoned at the surgery with 2 broken legs when just 3 months old.
---
Margaret Jones
Receptionist
Margaret joined the practice in 2005. She is very involved with Guide Dogs for the Blind and was formerly a puppy walker for the charity, taking on two retired guide dogs. Her main interests are football and tennis, and she is an obsessive Chelsea FC fan. As well as her reception role Margaret also manages the charity work at Brookend.
---
Jenni Parish
Receptionist
Jenni has been part of our reception team for over 10 years. She is in her element when greeting the new puppies and kittens. She enjoys family outings with children and black lab and has recently taken up horse riding again.
---
Jill Fenn
Receptionist
Jill joined Brookend in April 2017 after a long career in finance. She has a love for all animals (except Snakes!) and currently has many pets at home including Dogs, Cats, Rabbits and a parrot. Jill has an exceptional love of horses.
---
Anne Orr
Receptionist
Anne joined our reception team in 2018. She loves greeting the clients and their pets. Anne has completed the Competent Veterinary Dispenser Award, her goal being to complete her Silver receptionist award. In Anne's spare time, she enjoys long walks with her two dogs, listening to country music and yoga.
---
Paige McCormack
Receptionist
Paige is new to the reception team, joining us in 2021, and is loving the opportunity of interacting with the animals every day. Paige has two cats and a little boy. She enjoys days out with her family and aims to become a crazy cat lady if her husband will let her.
---
Sharon Leader
Receptionist
Sharon is the newest member of our reception team and is in her element cuddling the animals (especially puppies). She enjoys spending time with her family and friends. At present she has a cat but is on the lookout for a new canine fur baby.
---
Alison Rose
Receptionist
Alison joined the reception team in 2021. She loves working with the public and interacting with the animals that visit us at Brookend. Alison has two mad dogs which she loves like her babies. Alison enjoys the outdoors, time with friends and family and dog walking.